Make Music NOLA Benefit
Price: $10 until 5pm Tuesday, Feb 4th; $20 general; $50 VIP
Date: Wed, Feb 05, 2014
Time: 7:30 pm - 10:00 pm
Venue: McAlister Auditorium
Location: Tulane University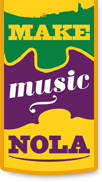 Tulane University Orchestra, Symphony Chorus of New Orleans, and Opera Creole  join forces in a musical benefit for Make Music Nola, formerly the Youth Orchestra of the Lower 9th Ward.
On the Symphony Chorus portion of the program are Beethoven's Fantasia for Piano, Chorus and Orchestra, a selection from Puccini's Tosca, as well as a gospel selection with soloist, "City Called Heaven."
Discount tickets until Tuesday, February 4th: $10
General seating: $20
Reserved seating and VIP reception tickets: $50
More About Make Music NOLA
The mission of Make Music NOLA (MMN) is to foster academic achievement, cultivate artistic expression, and promote the healthy growth and development of children in New Orleans through culturally relevant music instruction and performance.
MMN is an after school program, which runs Monday-Thursday from 3:30 -6:00 PM throughout the school year. The program consists of excellent music instruction, implemented by a diverse staff of professional musicians and college students; opportunities to participate in workshops with guest artists and local musicians; and community relevant performances. Additionally, the children receive a healthy snack, help with homework, an evening meal, and transportation to those who need it. Currently over 50 children from local elementary schools are enrolled in the program. They are located at Arise Academy, KIPP Leadership Primary, and Edgar P. Harney Elementary.
Make Music NOLA (MMN) began in September of 2011, under the name "Youth Orchestra of the Lower 9th Ward", with five students at the All Souls Community Center. Over the last two and a half years, the program has expanded to three additional locations; with plans to expand to even more (adding brass to our ensemble) this year. Last year they had an enrollment of over forty students, this year their enrollment has grown to over sixty students.
During their first year, their students performed with New Orleans-based entertainer Irma Thomas, during a televised performance in Syracuse, NY, and at the Operation Southern Comfort Crawfish Boil. During the Fall of 2012, their beginner students performed before a puppet production of Peter and the Wolf at Tulane University and at Trinity Episcopal Church as a thank you for their generous donation of Christmas presents. During Spring 2013, the orchestra performed at the finish line for the Crescent City Classic, Franklin Avenue Baptist Church (9th Ward), Café Istanbul, and at Loyola University with the New Orleans' Volunteer Orchestra. Last year, their first year students learned "I'll Fly Away", "Saints Go Marching In", and "Iko Iko". They also performed an arrangement of Todd Rundgren's "Bang the Drum" when Todd and his fans came to visit on his 65th birthday. Last August, MMN was the only student group invited to perform at Culture Collision.