Well, this has been a lovely month! Here are some cool things in the works:
I am being commissioned to compose a Psalm for Christmas Midnight mass at the New Orleans Jesuit Church. I submitted a few of my old liturgical pieces to the musical director for possible inclusion in our liturgy, and he asked me to compose a brand new piece for flute, two violins, cello, organ, soloist, and chorus!
If you haven't seen the beauty or heard the acoustics in that place, you are certainly missing out. As Musical Director, Paul Wattingy, describes it, "you could turn on a vacuum cleaner, and it would sound beautiful in here." Hopefully my music will sound a few notches better than that…
I am a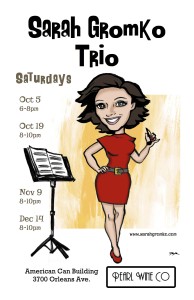 lso in the planning stages for a new album. When I went through my music a few months ago, I saw I had 40 unrecorded originals! I've been performing some of them regularly, and I will probably write some new ones to fill out the theme. I'm especially excited to include a larger ensemble piece used as interludes throughout, much as I did with Merton's Prayers on my first album.
I'm playing with a lot of new people, introducing our musical collaborations on each of my nights in my monthly residency at Pearl Wine Co. The next one is on November 9th (NEW TIME: 9-11pm) with Jenna McSwain on keys and Trey Boudreaux on bass.
I often forget about my music biz work for other musicians soon after I provide it, but thank goodness they don't! I'm excited to now be working for Al "Carnival Time" Johnson, Evan Christopher, author Jacob Mendelsohn, and a soon TBA Musicians' Advocate.
Read More